Gaining experience on soccer's grandest stage was great, CFM midfielder says, but "disappointment was there" over not getting on pitch.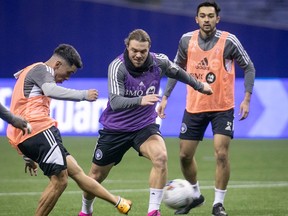 Postmedia may earn an affiliate commission from purchases made through our links on this page.
Article content
It was a long way for Samuel Piette to travel and not play.
Article content
But the CF Montréal midfielder took a philosophical approach over the fact he represented Canada at the recent World Cup in Qatar, yet didn't get on the pitch during the country's three defeats and elimination from the qualification round.
Article content
"I wasn't surprised, because every game is different," Piette said Wednesday, following CFM's training session at Olympic Stadium. "It was kind of tricky for me to get into games where you're not leading. This is how the coach (John Herdman) saw my role within the team, so I wasn't too surprised. But the disappointment was there, for sure. I know other guys that didn't play were disappointed, too.
"I can only speak for myself. Obviously, you're super honored and happy to be there and part of this event. But, when you're there, you want to play. Obviously, that wasn't the case for me. It was tough but, at the same time, I respect the coach's decision. I have to move on and keep working."
Article content
Canada, making it to soccer's biggest stage for the first time in 36 years, had hopes of advancing when it opened the scoring in its first match, against Morocco, but lost 2-1. It was outclassed during a 4-1 defeat against Croatia before ending its tournament with a 1-0 loss to Belgium.
Piette was one of six CFM players on the squad, along with Kamal Miller, Alistair Johnston, Joel Waterman, Ismaël Koné and goalkeeper James Pantemis. Waterman and Pantemis also didn't play, although all three could be integral parts of Canada's side in four years, when the country hosts a series of World Cup games.
"You just get the experience of a World Cup, which I think we were missing," Piette said, reflecting on his experience. "How you deal with certain situations on and off the pitch, atmosphere. You play big games with CF Montréal and the national team, but it's not the same. No disrespect. The experience … being really close to the best players in the world. See how they play. Seeing guys you watch on TV and being on the same pitch, close to them, was something special."
Article content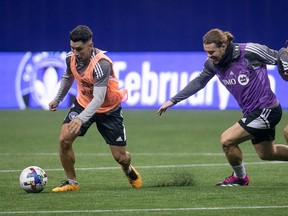 When CFM launched its camp on Jan. 9, Piette and his fellow Canada teammates were excused from reporting until the following week. Given the strict training regimens, combined with the arrival of new manager Hernán Losada, Piette might have fallen behind, forced into catching up quickly. But, knowing the circumstances, he said he came in well prepared.
"It wasn't tough at all," he said. "I did my homework during the off-season, staying fit. I knew how much time I needed to prepare for the season. You can't come into (camp) without doing anything before. The week I wasn't here, I was still … running outside, doing some workouts. It was a week off from not being around the team, but it wasn't a week off from not doing anything."
Article content
Piette, 28, a Repentigny native who shared the captain's armband in 2022 with Victor Wanyama, has been with CFM since 2017. But he's rejoining a different squad after the departures of manager Wilfried Nancy to Columbus, along with Koné, Johnston and Djordje Mihailovic to Europe.
"It's always tough when you lose something that was working," Piette said. "At the same time, you're a victim of your own success."
Meanwhile, striker Kei Kamara, who requested a trade before reporting, returned to training after missing Monday's session because of a flight delay, while attacking midfielder Joaquin Torres is expected to be traded to Philadelphia.
hzurkowsky@postmedia.com
twitter.com/HerbZurkowsky1
Kei Kamara reports to CF Montréal's camp after making trade request

Victor Wanyama credits family, teammates for return to CF Montréal

CF Montreal welcomes back national team players to training camp