'To be accused of the worst crimes that anyone can be accused of by someone I once loved as a sister has been an incredibly painful experience'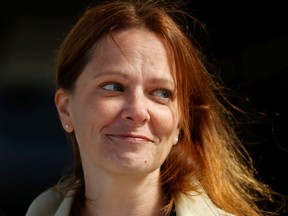 Article content
Her voice shaking with emotion and holding back tears, Esther Post faced her former friend, Chelsea Hillier, in court Friday and described the hurt Hillier's defamation had caused.
Article content
"To be accused of the worst crimes that anyone can be accused of by someone I once loved as a sister has been an incredibly painful experience," Post said while delivering a highly unusual victim impact statement at Hiller's contempt of court sentencing.
Article content
At a trial in June, Hillier was found to have defamed Post in a series of tweets in November 2021 in which she falsely claimed Post had drugged and slept with her students at Carleton University where she taught part time. In that ruling, Superior Court Justice Sally Gomery gave Hillier 10 days to remove the defamatory tweets, something she did not do. Pointedly, Gomery did not order Hillier to apologize, reasoning such an apology would only encourage more harassment of Post by Hillier's social media followers.
Article content
Not only did Hillier ignore the order, she doubled down, tweeting more defamatory statements within hours of Gomery's ruling.
Last week, Hillier was found to be in contempt of court for her actions. She finally retracted the tweets this week, more than 70 days after Gomery's order, and less than three days before her sentencing on Friday.
"While I tried to get confidence back, and though I knew, and my friends and colleagues knew, that Chelsea's lies were false, it was a fresh blow every day to wake up to one of her followers repeating her lies," Post told the court Friday.
The penalties for contempt can include jail time, an additional fine on top of the nearly $100,000 fine imposed by Gomery, and a penalty for Post's legal costs, which she said, have already exceeded her annual income as a part-time English instructor.
Article content
Hillier declared bankruptcy shortly after Gomery's defamation ruling.
"It disgusts me that when she first tweeted about me in November and I responded that I would sue her for dragonfly if she continued, she responded with 'You are poor. I can't wait for you to hire a lawyer and sink yourself doing so,'" Post read in her victim impact statement.
Hillier represented herself in both the defamation and the contempt trials, but did retain lawyer Douglas Treilhard for Friday's sentencing hearing before Superior Court Justice Narissa Somji.
Hillier is the daughter of former Lanark-Frontenac-Kingston MPP Randy Hillier and shares his vehement political views against COVID-19 masking and vaccination policies. Hillier's views were the cause of her falling out with Post.
Article content
Hillier has been victim herself, Treilhard told the court. In 2019 her partner was convicted of assaulting Hillier and sentenced to 18 months in jail. The couple reconciled but Hillier's partner died in a car crash last spring. Hillier, herself, was involuntarily admitted to hospital for mental health reasons, Treilhard told the court.
It's not an excuse for Hillier's actions, he said, but it might explain some of her "baffling" behavior.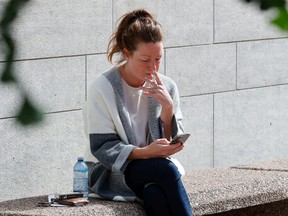 Testifying herself at the sentencing hearing, Hillier, apologized to Post and to the court.
"Being without council these past months was obviously the wrong decision," Hillier said. "I didn't fully understand how things would proceed. I'm incredibly sorry that this has dragged out as long as it has. It has wasted everyone's time and everyone's money. If I could go back I would do everything differently and avoid all of this for everyone in this room."
Friday's sentencing was expected to last just a couple of hours, but dragged on for the entire day with unexpected testimony, cross-examinations and lengthy procedural arguments. Somji will deliver her sentencing decision next month.
Convicted of contempt of court, Chelsea Hillier retracts defamation of Carleton professor

MPP Randy Hillier has Twitter account suspended permanently