"He's always been a guy in the room who took time to come on the ice with me," rookie says of veteran teaching him finer points of blue-line play.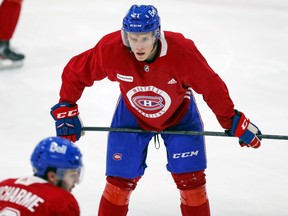 Article content
David Savard said veterans Antoine Vermette and Derick Brassard helped him when he broke in with the Columbus Blue Jackets in 2011 and now he's paying it forward by making rookie defenseman Kaiden Guhle feel comfortable.
Article content
"He's always been a guy in the room who took time to come on the ice with me," Guhle said Friday after he was paired with Savard for the first scrimmage at the Canadiens' training camp in Brossard.
Article content
"I was here for a couple of weeks and I was going on the ice by myself and he decided to come out and do some drills with me," said Guhle. "He's always been there for me and sort took me under his wing. He's an awesome guy and he's awesome to play with."
Guhle and Savard displayed some chemistry at last year's camp and it was a bit of a surprise when Guhle was returned to junior without even a short look at the NHL level.
Guhle didn't waste any time fretting about being sent down.
"Going back to junior last year was big for my confidence and maturity," Guhle said. "I live in the moment and I was happy going back to junior and winning a championship."
Article content
Guhle was the playoff MVP as the Edmonton Oil Kings posted a 16-3 playoff record to win the WHL title.
While Guhle put up strong offensive numbers in junior, he said he regarded himself as a two-way defenseman and he would do his best to fit into whatever system Canadiens head coach Martin St. Louis has in mind.
The first scrimmage of the training camp failed to produce a goal in two periods of running time, but the Red team claimed a victory when Rem Pitlick and Kirby Dach scored in a shootout, while Jesse Ylönen and Joshua Roy were stopped by Philippe Desrosiers.
Cayden Primeau and Jake Allen played the first half of the game and they were replaced by Antoine Coulombe and Desrosiers. The latter spent most of last season with the ECHL's Trois-Rivières Lions, but he has AHL experience and the 27-year-old will be battling Kevin Poulin for the backup job behind Primeau in Laval.
Article content
There were only a handful of NHL-caliber players on each team, but there were some hints about how St. Louis plans to use some players.
In addition to the Guhle-Savard pairing, newcomer Mike Matheson was teamed with Justin Barron on what could be a top-four pairing if Joel Edmundson isn't ready to start the season. Edmundson has a history of back problems and he is out indefinitely with his latest back injury.
There were more veterans in the afternoon scrimmage and highly touted rookie Juraj Slafkovsky was on a line with junior center Owen Beck and Rafaël Harvey-Pinard. That was the No. 2 line for Team C, which had Christian Dvorak between newcomer Evgenii Dadonov and Brendan Gallagher on its top line. Jake Evans, who started the camp as day-to-day with a minor injury, centered Team D's top line with Jonathan Drouin and Joel Armia on the wings.
The training camp continues Saturday with morning and afternoon scrimmages, and the action moves to the Bell Center Sunday for the annual Red vs. White intrasquad game at 3 pm
phickey@postmedia.com
twitter.com/zababes1
Stu Cowan: Jeff Gorton's path to Canadiens began as a Bruins intern

Jeff Gorton believes Canadiens will surprise people this season

Canadiens coach Martin St. Louis not worried about team's logjam at forward

Canadiens' Brendan Gallagher already has first facial scratch at camp

Canadiens' Nick Suzuki sidelined for two weeks with lower-body injury