The global oil and gas industry event takes place in September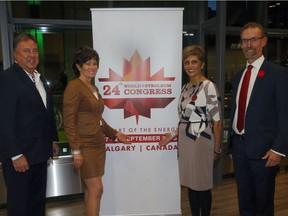 Article content
The Calgary Police Service is set to bolster its resources for the World Petroleum Congress that's slated to come to Calgary in September.
Article content
Presenting to the Calgary police commission on Wednesday, police said the global oil and gas industry event is expected to draw somewhere around 15,000 people to the city and has the potential to draw large protests and demonstrations. As such, CPS is planning to increase its presence throughout that week, as well as draw law enforcement supports from agencies across Western Canada.
Article content
"We have reviewed a number of previous similar events, and they have shown us that there are operational risks out there. So we're aware of those risks and we are taking steps to address those risks," said Jason Archibald, a business strategist with CPS. "We're also working with other law enforcement agencies to assess the intelligence situation and to inform our operational response."
Article content
World Petroleum Congress to land in Calgary with 'path to net zero' focus

Calgary to host 2023 World Petroleum Congress

Mayor Gondek takes off for World Petroleum Congress in Texas
The event regularly attracts heads of state, energy ministers and executives from countries worldwide. Police said they'd be keeping regular contact with those dignitaries' security details.
"If something were to unfold with them, we will have instant information relayed to our command center as to who was involved and what the situation was," said Insp. Sheldon Scott.
"We're not affording them any bodyguards or any protection like that, it's just a liaison to correspond with them on what their movements might be and how we can assist them."
Article content
High international presence expected
Commissioner Heather Campbell asked CPS officials about human rights violators and potential human trafficking concerns related to the five-day exhibition. A CPS representative suggested that question would be better suited for the closed-door session that came after the public meeting.
"As you'll see on the in-camera agenda, we do have another Q&A. So that's probably a more appropriate question for there," he said.
One of the top-level sponsors of the 2023 WPC in Calgary is QatarEnergy, a Qatar state-owned petroleum company. Qatar made headlines recently for human rights violations, labor abuses and its curtailment of freedom of expression as it took the global spotlight last year while hosting the 2022 FIFA World Cup.
Article content
Providing security at the last Calgary-hosted World Petroleum Congress in June 2000 cost the CPS $1.5 million. Multiple protests occurred throughout the week by environmental groups, some blocking roads near the downtown headquarters of some oil companies.
Announcing the event in 2019, the city said it expects to see representatives from 80 countries and some 5,500 delegates, bringing an estimated $65 million in economic stimulus for Calgary. The theme of this year's conference is "the path to net zero."
The World Petroleum Congress will take place at Stampede Park from Sept. 17 to 21.
mrodriguez@postmedia.com
Twitter: @michaelrdrguez