Calgary Co-op said in an emailed statement to Postmedia the Beddington Co-op and Village Square Co-op will close due to poor performance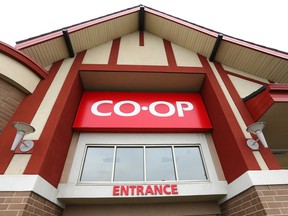 Article content
Two Calgary neighborhoods will lose their Co-op grocery stores on March 8.
Article content
Calgary Co-op said in an emailed statement to Postmedia on Wednesday that the Beddington Co-op, at 8220 Center St. N., and Village Square Co-op, at 2520 52nd St. NE, will close due to poor performance.
Article content
"While we never want to close a food store, we do need to make decisions that are in the best interest of our members," said the statement. "Unsustainable sales and increasingly difficult local economic and market conditions for these stores mean we need (to) reallocate resources to other, more sustainable locations."
Article content
The company said the gas station at Village Square will remain open, as will the gas station, liquor and cannabis stores at the Beddington location.
The statement did not say how many employees would be affected, but the company is working with unions to support them in the transition. Alternative roles will be offered to all affected employees.
Article content
The company will also be communicating with Co-op members about the upcoming changes, including where pharmacy files will be transferred.
The company plans to reinvest resources in the redevelopment of other properties, including the North Hill and Oakridge projects and a new store in Marda Loop. The grocer's plans for redevelopment of four properties were originally pegged at $2.5 billion in 2019, while it has worked extensively to refresh its branding and in-store offerings.
Article content
Calgary Co-op buys Willow Park Wines and Spirits

Calgary approves single-use items bylaw, which includes fees on reusable and paper bags

Co-op set to redevelop North Hill site in partnership with Royop
Last week, the company announced it had purchased family-run liquor retailer Willow Park Wines and Spirits — comprising three locations and distribution centers in Edmonton, Calgary and Regina — for an undisclosed amount.
Calgary Co-op's sales dropped slightly in 2021, from $1.26 billion to $1.23 billion, something CEO Ken Keelor ​​said last April he expected as retailers returned to a more normal level of business. Financials for 2022 will be released in the spring.
"We remain committed to our long-term strategy of delivering exceptional customer experiences while creating value for our members, inspiring our team members and serving our local communities," said the statement.
jaldrich@postmedia.com
Twitter: @JoshAldrich03