"It brings out the best of everyone," he says about Boston-Montreal rivalry after scoring the winner Tuesday night.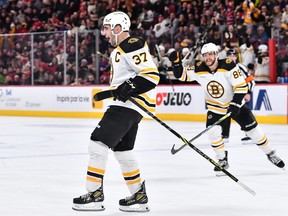 Article content
Playing at the Bell Center remains something special for Boston Bruins captain Patrice Bergeron, who is in his 19th NHL season.
Article content
"It's always a special place to play and a special team to play against for myself, but I think for the whole group," Bergeron said after scoring the winning goal in the Bruins' 4-2 victory over the Canadiens Tuesday night. "We all recognize the rivalry, also the tradition on both sides. It's always a lot of fun. It brings out the best of everyone. You can tell, too, Montreal wanted it and played a great game against us."
Article content
The Bruins improved their record to 38-5-4 with the win, becoming the quickest team in NHL history to hit the 80-point mark after only 47 games. The Canadiens saw their record drop to 20-25-3 and they fell 37 points behind the Bruins in the standings.
Last season, there were 11 teams that finished the 82-game season with less than 80 points, including the Canadiens, who were last with a 22-49-11 record for 55 points.
Article content
With 18-20-38 totals this season, Bergeron shows no signs of slowing down at age 37. With a six-game winning streak and a 10-1 record in their last 11 games, the Bruins also show no signs of slowing down. They are on pace to finish the season with 140 points, which would break the single-season record of 132 set by the Canadiens in 1976-77, when they finished with a 60-8-12 record en route to winning their second of four straight Stanley Cups.
"Realistically, I think if you would have asked us at the start of the year where we'd be, I don't think the five losses would have been something we thought would have happened," Bergeron said. "But … I think we're staying in the moment and we're taking it a game at a time and we're enjoying ourselves.
Article content
"We don't get satisfied," the L'Ancienne-Lorette native added. "Tonight's a good example. There's a lot of things that we can do better in that game that we're going to work on and make sure we rectify for the next game. I'm proud of the resilience every night to find ways to win games and, ultimately, that's the business we're in. We're trying to win hockey games and sometimes you don't necessarily ask how."
The Bruins have been winning — a lot — with new head coach Jim Montgomery, a Montreal native who was hired last summer to replace Bruce Cassidy, who is now head coach of the Vegas Golden Knights. The Bruins made the playoffs in all six seasons with Cassidy as head coach, but lost in the first round last year to the Carolina Hurricanes.
Article content
Bergeron said one of Montgomery's biggest assets is his ability to communicate with the players.
"He always lets us know how he feels," the Bruins captain said after Tuesday's win. "Tonight, it's one of those nights where he did mention that it's a game that meant a little more to him because it's his hometown team and he grew up watching them. It speaks volumes of the connection that he's making with the guys, the way that he coaches and his style, and letting us also take ownership and accountability in the locker room to make sure we're at our best."
A win in Montreal is always extra special for Bergeron, who signed a team-friendly, one-year contract last summer worth US$2.5 million to stay in Boston. Bergeron could afford to take a hometown discount because he has earned more than US$95 million during his career, according to CapFriendly.com. Before re-signing with the Bruins last summer, all of Bergeron's previous contracts were negotiated by Kent Hughes, who was his agent before becoming GM of the Canadiens last year.
Article content
The Bruins selected Bergeron in the second round (45th overall) of the 2003 NHL draft after the Canadiens had taken Andrei Kostitsyn in the first round (10th overall) and Cory Urquhart in the second round (40th overall).
"Playing in Montreal — I've said that many times — it's an organization I respect a lot," Bergeron said. "I grew up a Nordiques fan coming from Quebec City, but I do understand and recognize the tradition, everything it's been through and all the legends that have been wearing that jersey. So for me, it's a lot of pride to play for the Bruins with that same kind of tradition and legends of the game and be a part of it. So I always try to enjoy it and make the most of it."
scowan@postmedia.com
Stu Cowan: Jim Montgomery's dominant Bruins buck NHL salary cap

What the Puck: Despite loss of Caufield, Canadiens fans remain upbeat