Fred Franzia was the owner of Bronco Wine Company, the seventh largest wine producer in the United States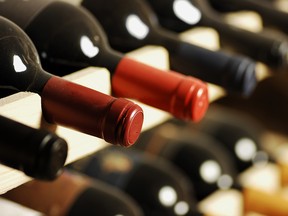 Reviews and recommendations are unbiased and products are independently selected. Postmedia may earn an affiliate commission from purchases made through links on this page.
Article content
A few things today, beginning with Fred Franzia, owner of Bronco Wine Company, the seventh largest wine producer in the United States. Franzia died earlier this month, and if you haven't heard of Bronco or Franzia, chances are you will know of his famous label: Charles Shaw Two Buck Chuck.
Article content
It was never a great wine, but it was drinkable, and it struck a chord with many American wine drinkers looking for a bargain basement California red.
Article content
Franzia was said to be the master of the supply chain, as evidenced by the packaging of Two Buck Chuck, the cheapest glass, the cheapest paper and the cheapest ink, not to mention the cheapest juice. He owned most of the vineyards that went into Two Buck Chuck, and his decision to sell it through only one retailer, the famed Trader Joe's, turned out to be genius. He spent no money on sales and marketing, but it didn't matter, Two Buck Chuck was a legend the day it launched.
It never came to Canada for obvious reasons, there is no Trader Joe's, but the all-reaching government monopolies have long imposed a set floor price for alcohol that is well north of two dollars. So even today, after raising the price 50 per cent to $3, Two Buck Chuck remains a bargain in a sea of overpriced wine.
Article content
• In other wine news, it would appear the culture of wine and the money it generates continues to penetrate the North American market, as evidenced by a recent report from Airbnb and its 120,000 hosts with "vineyard" listings.
Since May, there has been a new way to search the site designed around Airbnb Categories which now include vineyards. As a result, it's been a windfall for hosts sharing a vineyard-adjacent home.
Airbnb reports, "In the U.S., hosts offering stays near vineyards collectively earned more than $270 million in Q2 2022 alone, with an individual U.S. host typically earning more than $8,000 over the same period in the Vineyards Category."
The guest list varies "from Gen X (31 per cent) to boomers (16 per cent), families looking for an outdoor escape (28 per cent) to romantic duos or friend-cations with two BFFs (31 per cent).
Article content
Closer to home, the harvest is slowly underway in the warmest parts of the south Okanagan, led by Sauvignon Blanc and Chardonnay. After a slow, cool start, a midsummer heat wave helped to bring the vines along until it got so hot many shut down in self-protection, once again slowing down the ripening process.
• It looks like a late October or an early November finish for northern vineyards, and even that depends on fair weather. So what you may want to prepare for now are shortages of your favourite wines.
Many producers struggled to keep up with consumer demands since the pandemic, and that strain was only exacerbated by the recent BCGEU strike that shut down the movement of wine provincewide. Restaurants and private wine shops left out in the cold with no ability to order from the monopoly wholesaler turned to local producers to fill the gap.
Article content
The workers have returned to the job, but it will take a month or more to right the ship, and with Thanksgiving on the horizon, I would not bet on anything getting back to normal until late October. Not that normal is a desirable level of service at any time in a tourist-based economy.
---
Weekend wine picks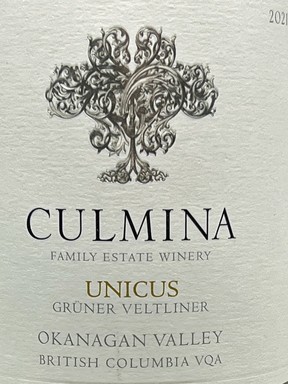 Culmina Family Estate Unicus Grüner Veltliner 2021, Golden Mile Bench, Oliver, Okanagan Valley, British Columbia, Canada
$30 I 90/100
UPC: 063657041833
Culmina is considered a red wine property, but the Grüner Veltliner is one of the best labels it makes every year. At just under 600 metres, Margaret's Bench would seem to be an excellent cool site, yet the style is often opulent here. Ripe pears, guava, and a touch of tangerine linger on the palate long after you sip it, with a dusting of south Okanagan desert scrub. Principally a wine of texture with endless food possibilities. Ready to drink.
Article content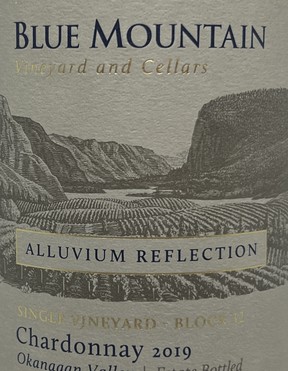 Blue Mountain Alluvium Reflection Chardonnay Single Vineyard Block 32 2019, Okanagan Valley, British Columbia, Canada
$40 I 93/100
UPC: 626452341197
Block 32 is a new Chardonnay release from Blue Mountain pairing two famous French clones, 96 and 76. The vines are three decades old and planted on the estate inside the Okanagan Falls G.I. The nose is a mix of minerals and exotic fruit nuances. The wine is fermented on its yeast and aged for 18 months in three and four-year-old neutral oak barrels. The style is electric with stony, savoury, tropical fruit all wrapped up in a medium, creamy texture and a long citrus finish flecked with hazelnuts. It is the real thing. Watch this bottle disappear in front of your eyes. Drink or hold through 2026 — sold winery direct.
Article content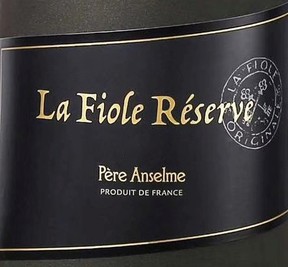 Père Anselme La Fiole Réserve Côtes du Rhône Villages 2019, Rhone Valley, France
$29.99 I 88/100
UPC: 03217661016593
The unique twisted bottle used by La Fiole was designed and made with the co-operation of local Provençal glass and ceramic artisans in 1952. Its shape represents the gnarled, twisted vines typical of the region due to the constant struggle to grow against the Mistral wind. La Fiole Reserve is matured in traditional 100-year-old large oak barrels and concrete vats for 12 months, plus several more months in bottles. A strict selection of Grenache and Syrah leads to an intense Reserve version of this Côtes du Rhône. Look for deep colour, black and red fruit that comes with sturdy tannins, cocoa, and licorice. There is plenty of acidity, so there is no rush to drink. For those in a hurry, think lamb chops or a pork roast to assimilate all the edges.
Article content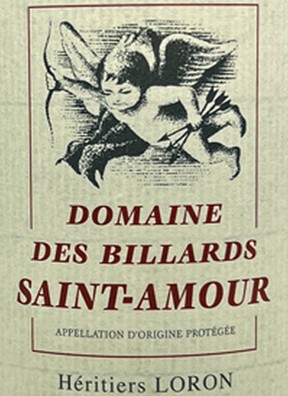 Domaine des Billards Saint-Amour 2019, Saint-Amour, Beaujolais Villages, Burgundy, France
$31.99 I 91/100
UPC: 3298660029715
Saint Amour is the northernmost cru and one of the smallest at 321 hectares under vine, but the vines sit over some of the most diverse soils in all of cru Beaujolais. The mix of blue volcanic schist, granite, pink granite, clay, alluvial fans, and sandstone from the time that Burgundy was under the ocean gives this cru a richness and roundness that is hard to equal. As a result, in 2019, a somewhat atypical super warm year, this yields a rich, masculine, almost powerful Gamay full of ripe cherries, crushed raspberries, black licorice and spice, all with the alluring Saint Amour texture. More Burgundy than Beaujolais this time, it was the perfect foil to Beijing duck. Stock up.
Article content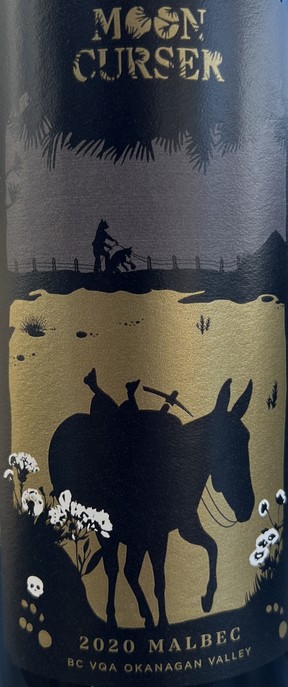 Moon Curser Malbec 2020, Osoyoos, Okanagan Valley, British Columbia, Canada
$34.99 I 91/100
UPC: 626990114758
A thin-skinned grape, Malbec adores heat within reason. Thus, it is well suited to the south Okanagan and its Osoyoos East Bench home. At Moon Curser, 2020 is described as an "unforgettable season" that "allowed for fantastic flavour development and balanced accumulation of sugars and acidity." After a stainless steel ferment, the wine is aged in 225L barriques (25 per cent new). It is a juicy mix of spice and blueberries streaked with violets, earth, and a touch of milk chocolate. Attractive, warm and spicy, this will have many fans. Barbecue ribs come swiftly to mind. The tannins are dense and long but should only be a midterm interference. Very well done.
Article content
---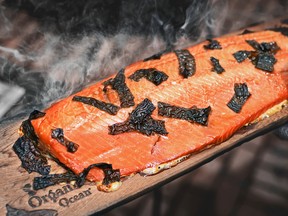 Wine match recipe: Cedar planked wild sockeye salmon
Organic Ocean Chef Robert Clark is a big fan of B.C. salmon. "I love the quality, taste, and nutrition of wild B.C. salmon," he says. "It's been an integral part of West Coast society forever, and I believe elevating its importance will assist in maintaining it as a sustainable and renewable resource for future British Columbians." In order to celebrate the bounty, Clark shared this recipe for cedar-planked wild sockeye salmon. Marinated in a sweet-and-savoury mix that includes soy sauce, ginger, sesame oil and more, it's sure to be a crowd pleaser.
2 side of wild sockeye, about 1 kg (2.2 lbs) total weight, skinless, boneless
2 cedar planks, soaked for 2 hours
Article content
4 sheets of Macro Kelp seaweed
1/4 cup (60 mL) soy sauce
1/4 cup (60 g) ginger, grated
1 tbsp (15 mL) sesame oil
1 tbsp (15 mL) honey
1 tbsp (15 mL) garlic, minced
2 whole green onions, sliced
2 whole lemons, zest and juice
Soak the Organic Ocean cedar planks in water for at least two hours. Preheat your grill to 450 F. The hotter the better. Soak the Macro Kelp seaweed in cold water for a couple of minutes, rinse and chop into bite size pieces
Combine the soy sauce, grated ginger, sesame oil, honey, lemon zest and garlic. Lay the salmon in a casserole dish, add the cut seaweed, and pour over the marinade. Let it sit for one hour. Heat up your grill to 450 degrees F. Lay the salmon and the Macro Kelp seaweed onto the board and grill for eight to 10 minutes, depending on thickness and desired doneness. When the fish is done to your liking, remove from the heat, sprinkle with green onions, and drizzle with lemon juice.
Article content
Grilling
Pre heat the grill to 450 F to 500 F. Place the board on the hottest part of the grill, cover and cook for about eight minutes. You want the board to smoke. If it begins to catch fire, put out the flames with a drizzle of water. Turn off the grill and check the doneness. You can let it sit there, and it will continue to cook for another couple of minutes, depending on your preference of doneness.
Chef's note: You may want a spray bottle of water to spray any potential flare ups.
Serves 6-8.
Recipe match
Cedar planked wild sockeye B.C. salmon in B.C. should be paired with B.C. Pinot Noir.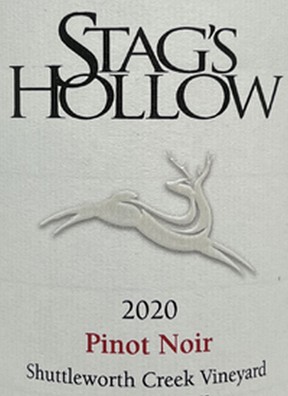 Stag's Hollow Pinot Noir Shuttleworth Creek Vineyard 2020, Okanagan Falls, B.C. $30. 
Warm and spicy with rich black cherry, black tea, and cola sweetness that allows you to take on this rich dish.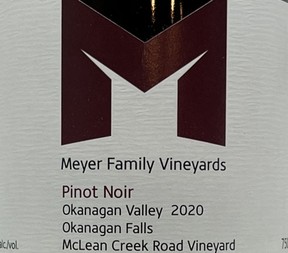 Meyer Family Vineyards Pinot Noir McLean Creek Road Vineyard 2020, Okanagan Falls, B.C. $34.87. 
Sultry, mouth-filling, perfumed plum, wild blackberry thorns on a textural, expansive palate tailor-made for cedar-planked salmon.