In a statement Wednesday, Smith's office referred to CBC's reporting as "defamatory" and containing "baseless allegations"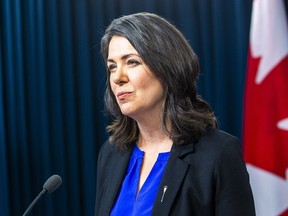 Article content
Alberta Premier Danielle Smith is calling on CBC News to retract and apologize for a story that cites unnamed sources alleging her office emailed Crown prosecutors regarding the handling of cases tied to last year's Coutts border blockade.
Article content
In a statement Wednesday, Smith's office referred to CBC's reporting in a story published Jan. 19 as "defamatory" and containing "baseless allegations."
Article content
"The premier calls on the CBC to retract its outrageous story, and further, that the CBC and the Official Opposition apologize to the premier, premier's office staff, Alberta Crown prosecutors and those in the Alberta public service for the damage caused to their reputations and that of Alberta's justice system," the statement reads.
Smith goes on to note the CBC has amended its story to clarify that it had not seen any emails between her office and prosecutors.
"The CBC's allegations and insinuations to the contrary are, once again, baseless."
According to its journalistic standards and practices, CBC's stories are required to be based on "information we have verified" and use "first-hand, identifiable sources" whenever possible while acknowledging the need for anonymity in some cases.
Article content
"If we do not properly protect our confidential sources, potential sources will not trust us. This compromises our ability to expose abuses of power."
Chuck Thompson, head of public affairs for CBC, said that the organization stands by its reporting, saying the allegations are attributed to "trusted sources."
"As is our practice, we gave the prime minister and her office an opportunity to react and we included that response prominently in the story."
Earlier Wednesday, CBC reported in another story that the premier pressured the province's attorney general and his office to intervene in court cases related to COVID-19 and public health measures, citing multiple unnamed sources.
Shandro hearing Day 2: Calgary woman 'petrified' after health minister responded to criticism of wife's company

Closure of Alphabet Inc.'s DeepMind shop in Edmonton shows Alberta at risk of losing out: NDP
The latest report claims the cases included that of Artur Pawlowski, a pastor charged with criminal offenses and violations under the Public Health Act.
Article content
In its statement, the prime minister's office references her prior stated intent of seeking amnesty for those charged with non-violent, non-firearms offenses related to the pandemic.
It further claims that Smith and her staff had "several discussions" with Justice Minister Tyler Shandro and ministry officials "requesting an explanation of what policy options were available for this purpose."
"After receiving a detailed legal opinion from the minister to not proceed with pursuing options for granting amnesty, the prime minister followed that legal advice. All communications between the prime minister, her staff, the minister of justice and Ministry of Justice public servants have been appropriate and made through the proper channels," it states.
Article content
IT review found no evidence of emails
The latest report follows the release of what Alberta Justice referred to as a "comprehensive" review of almost one million incoming, outgoing and deleted emails from approximately 900 government email accounts belonging to prosecutors, their staff and staff from the premier's office.
The review found no emails between the prime minister's office and what the government described as "relevant" prosecutors.
The department noted that it has "no ability" to search personal email accounts, although any message sent from a personal email to a government address would have been captured in the search.
While the government's Monday news release said the review covered four months' worth of emails, CBC's latest report said the government later added that deleted emails would only be retained for 30 days, which would reach back to Dec. 22.
Article content
Smith has changed her story regarding interactions with prosecutors over the past weeks.
Late last year, Smith said she asks provincial Crown prosecutors on a regular basis to consider whether such charges are in the public interest and whether they are likely to see a conviction.
But, her office walked that claim back soon after, claiming Smith had only spoken with Shandro and deputy attorney general Frank Bosscha, asking them to examine their options on outstanding COVID-related cases.
During a prior radio broadcast, Smith went beyond that, saying she urged Shandro and his deputy attorney general to consider whether the cases were in the public interest and whether there was a reasonable chance of conviction before proceeding.
Article content
Smith's shifting stories raise concerns: NDP
New Democrat MLA Rakhi Pancholi renewed the Opposition's calls Wednesday for a full, independent investigation by a third party and for the prime minister to take questions from reporters in person.
Pancholi said too many questions about the prime minister's conduct and the government's IT review of emails remain unanswered.
"This is an unmitigated mess from the prime minister, and what she's doing is continuing the chaos and undermining Albertans' trust and confidence in the administration of justice," said Pancholi.
In response to the prime minister's suggestion the Official Opposition is using the CBC story to smear the reputations of the prime minister, her office staff, Crown prosecutors and the public service, Pancholi pointed to Smith's own statements.
"It is the prime minister herself who has stated multiple times on the record that she has contacted prosecutors and the attorney general related to cases that are before the courts or that are currently being charged," she said, adding individuals who claim to have knowledge of interference should be able to give evidence, and should not be forced to speak anonymously to media outlets and fear retaliation.
mblack@postmedia.com
lijohnson@postmedia.com