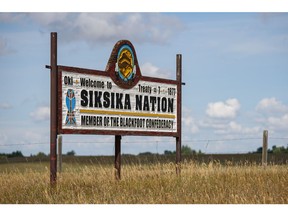 Article content
The federal government has signed off an agreement that will see Siksika Nation take control of policing on its lands from the RCMP.
Article content
The pact — first announced in July — will see Siksika become the country's first self-administered First Nation police service in 14 years following Ottawa's formal approval, the province said in a release Friday.
Article content
"The recent tragic events in Saskatchewan have underscored the importance of First Nations policing. Every individual has the inherent right to safety and security, and establishing a Siksika-administered police force will help secure this right," Siksika Chief Ouray Crowfoot said in the release.
Timing of the transfer and operational details have yet to be determined.
Crowfoot said Siksika already has a bylaw prosecutor in place and is working to create a prosecutor's office that would be the first of its kind in Canada.
Article content
"Siksika police and prosecutor services are foundational building blocks for a safe Siksika. It's these kinds of partnerships that make me proud to represent Siksika and call myself an Albertan and a Canadian," he said.
The agreement follows a historic settlement with the federal government that provided $1.3 billion in compensation to the Siksika Nation to resolve outstanding land claims.
Siksika Nation is comprised of about 8,000 people on more than 700 square kilometers of land about an hour east of Calgary. The nation had its own police organization, the Siksika Nation Tribal Police Service, but provincial and federal funding was cut off in 2002 after 10 years, effectively ending the service and transferring policing on the nation to the RCMP detachment in Gleichen.
Article content
Crowfoot has said while the nation has a good relationship with Mounties, officers can be unfamiliar with areas on the nation.
In Saskatchewan, James Smith Cree Nation Chief Wally Burns has called for community policing after a stabbing rampage earlier this month in his community and the nearby village of Weldon left 11 people dead, including a suspect, and 18 injured.
Siksika Nation to get self-administered police service

Prime Minister Trudeau signs historic land claim settlement with Siksika Nation

Alberta mayors, premier urge compassion after Saskatchewan stabbing spree
Siksika would be the fourth self-administered First Nation police service in Alberta, joining the Tsuut'ina Nation, Blood Tribe and Lakeshore Regional operations.
In June, the Alberta government announced funding for each of those services to add five officers over the next four years.
With files from The Canadian Press